Under The Nile Wooden Tool Box with Plush Tools
Product Description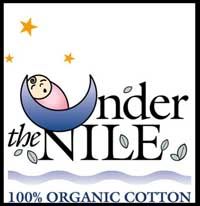 Wooden Tool Box with Plush Tools
Your little carpenter will have a great time with this Wooden Tool Box. He (or she) will create all kinds of imaginary "fun" whether painting, hammering or sawing. The "tools" are made from (and stuffed with) organic cotton, so you'll have no concerns for your child's safety, as there is no fluff to inhale and there are no toxins to ingest.
Features:
Hammer, Saw and Paint Brush
Under the Nile was chosen for their beautifully made toys and apparel of 100% certified organic Egyptian cotton. Their unusually large selection of fashion themes not only look and feel good but are good for your child. These organic treasures are safe, pesticide free and naturally dyed. Accessories such as buttons and zippers are made of organically friendly elements like wood, shell or nickel-free metals. Beyond these good reasons for including Under the Nile in the selection here at Mandala Organics, we are happy to support their focus on fair trade and the farm community that provides a worldwide model for organic agriculture.
Find Similar Products by Category
Customers Who Viewed This Product Also Viewed