Under The Nile Fruit Tote Set
Under The Nile Fruit Tote Set
Availability:
Usually ships within 24 hours
Shipping:
Calculated at checkout
---
Product Description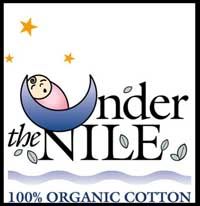 Strawberry TeetherFruit Tote Play Set
Your child will fall in love with our new Fruit Tote play set with braided handles! The embroidered "Fresh organic fruit basket" on the front of the tote sends a healthy early message. The tote includes: Banana, Pear , Grape & Watermelon "people" . Made and stuffed with the finest 100% organic Egyptian cotton, so you have no worries when your little one decides to "try a bite."
Under the Nile was chosen for their beautifully made toys and apparel of 100% certified organic Egyptian cotton. Their unusually large selection of fashion themes not only look and feel good but are good for your child. These organic treasures are safe, pesticide free and naturally dyed. Accessories such as buttons and zippers are made of organically friendly elements like wood, shell or nickel-free metals. Beyond these good reasons for including Under the Nile in the selection here at Mandala Organics, we are happy to support their focus on fair trade and the farm community that provides a worldwide model for organic agriculture.
Find Similar Products by Category
Customers Who Viewed This Product Also Viewed